Parker Dumpster Rental – Parker's Best Dumpster Service

Parker Colorado Background
Parker is the nineteenth largest city in Colorado and is situated on the southeast corner of the Denver metro area. Primarily a bedroom community, Parker's humble beginnings were centered largely around the historical 20 Mile House; a post office, grocery, hotel, general store, so named because it was roughly 20 miles from the Colfax and Colorado Blvd intersection in Denver.
Sam's Hauling set its very first roll-off dumpster in 2001 on Hillgate Circle in the Pinery just south of Parker, and thus began a mini roll-off dumpster business that now serves not only Parker but the greater Denver area.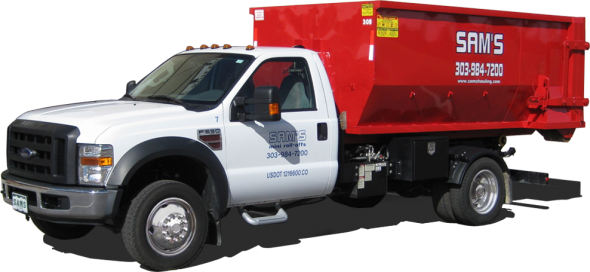 In the 10 year period ending in December 2017, Sam's has placed over 75,000 roll-off containers in the Denver metro area including thousands of dumpster rentals in Parker.
Remodeling Contractors and homeowners in the Parker area have depended on Sam's Hauling expertise to provide the best possible experience when renting a roll-off dumpster for their remodel or cleanup projects. Our well-trained divers, professional office staff and accurately sized containers have earned an A+ rating with the BBB as we strive to be the most reputable Parker dumpster rental business.
Things to consider when renting a dumpster in Parker
Required permits - The city of Parker requires a permit to place a roll-off dumpster on the street.
Permit limits - The home or property owner is required to obtain the permit which is normally good for up to 5 days. As of this writing, the permit fee is $50 with a $200 deposit.
We can help - Sam's can assist property owners in assessing the proper dumpster placement and in contacting the appropriate agency when street placement is required.
Always compare prices - Some companies charge excessive amounts for small roll-offs or deliver containers that are smaller than they claim.
Beware of out of state "dumpster brokers" - They usually have high prices and poor service. They are easily identified by their toll-free "800" phone numbers and lack of local address.
With more than 14 delivery trucks and over 400 roll off containers, Sam's Hauling has the resources to keep your project moving. Homeowners have used dumpster rentals in Parker for a variety of projects such as the removal of debris from DIY home improvement projects, bulk rubbish removal, property clean ups and prepping homes for sale. With 4 different sizes of small vertically designed roll-off dumpsters Sam's has the ability to save you space and money and ensure you have the best possible Parker dumpster rental experience. Licensed contractors can ask about our repeat discounts and extended rental periods.
Whether you need a dumpster in Parker for general refuse, or remodeling and construction debris, clean out trash, or more, Sam's mini roll-off containers are the Parker Colorado dumpster solution.
Call Now To Schedule a
Dumpster Delivery
Locally Owned Denver Dumpster Rental Company Serving Homeowners, Remodelers, Contractors, & Roofers...
(303) 984-7200

Sam's Hauling
1408 W Quincy Ave
Englewood, CO 80110
Monday - Friday, 7:30 am - 4 pm
Saturday, 8:00 am - 12:00 pm
Sunday - Closed