With a population of only about 20,000 residents, Golden remains one of Denver's most well-known suburbs. Nestled near the foothills on the western edge of the metro area, Golden is recognized for a variety of world famous landmarks. Besides numerous museums, it is home to:
Colorado School of Mines
National Renewable Energy Lab
National Earthquake Information Center
Coors Brewery
Split by Clear Creek, the vibrant downtown area is filled with shops, restaurants and nightspots. In the heart of Jefferson County, Golden serves as the county seat and at one time vied to be the territorial headquarters of Colorado – eventually losing out to the city of Denver.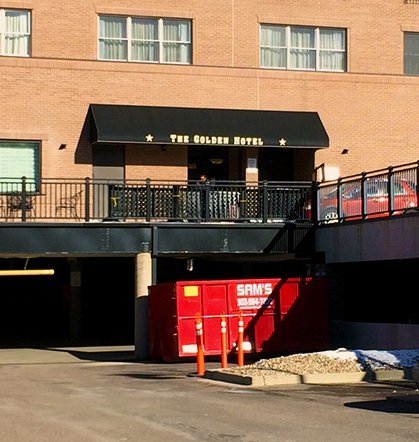 With a combination of older historic homes near downtown Golden and newer homes to the north, the need for restoration and remodeling dumpsters in the city has been significant.
Sam's Hauling has placed thousands of roll-off containers for cleanups, renovations and moving projects in Golden.
We are familiar with the regulations for proper placement of a container in Golden. Our staff will assist with dumpster street permit requirements in Golden and can help choose an appropriate size roll off container.
Providing Dumpster Service to Golden Since 2001
Having provided dumpsters to Golden since 2001, Sam's remains the oldest and largest mini roll-off company in the Denver metro area. Homeowners have used our small vertically designed containers for a variety of projects around the house including basement, garage and shed clean-outs, lawn and yard cleanups, DIY remodeling projects and pre-move and pre-sale preparation.
Whether you need a dumpster for general trash, remodeling and construction debris, or more, Sam's mini roll-offs will help you save time, space, and money.