Contractors & Construction
Space Saving Construction Dumpsters Use Vertical Design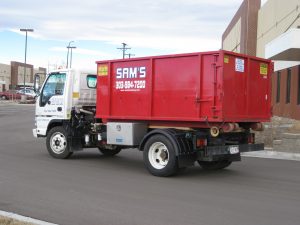 Denver Contractors and remodelers find that utilizing a roll-off waste container helps them maintain a safe, clean and organized job site. Many types of remodeling, demolition, and construction projects require an efficient, cost-effective method of trash removal. Sam's Hauling provides small to medium-sized dumpsters for commercial or home improvement projects that have space constraints or just don't require a monstrous 30-yard roll-off. Below are some of the job types for a Sam's roll-off dumpster.
Construction Dumpsters in Denver
Bathrooms – disposal of tub, toilet, vanity, shower, tile, flooring, drywall, windows and more
Kitchens – tear out of countertops, cabinets, appliances, walls, soffits, and flooring
Basement Finishes – tear-outs and finish scraps, studs, drywall and trim pieces
Deck build/replace – build or replace decking, handrails, joist, stairs or support posts
Roofing – 25 total square or less of asphalt shingles – recycled when possible
Fencing – stockade or chain link demo material, post and concrete supports
Room additions – wall blowouts, framing, drywall, siding, and roofing trim
Garage additions or replacement – garage demo, and replacement material trim and excess
Commercial interior remodel – strip mall, office suite, and small building refurbishments
Evictions – haul away of abandoned furniture, household goods and left behind items.
Recycling – "like material" recycling of wood, metal, roofing, and paper and cardboard with documentation to support LEED® and other "green" building programs
Big remodel jobs / limited space – on occasion, large remodeling projects with multiple contractors create situations with limited room for construction debris containers and roll-off trucks. Sam's small footprint dumpsters can be placed in and out of many remodeling job site settings that are inaccessible to larger vehicles and roll-offs.
Here's What Sam's Will Do for You
Sam's extends rolling discounts to repeat contractor customers.
Licensed contractors receive extended set times and grace periods.
Dedicated recycling containers are available for same-type materials.
Supporting documentation for recycling programs noting material types, volume, and weight are available to contractors participating in LEED® and other green building projects.
Small-footprint dumpsters take up less room at building sites and fit in settings with limited room.
Invoiced billing after a credit application approval.
Virtually all of Sam's contractors are repeat customers. Small to medium jobs in developed neighborhoods with limited space is our specialty. Timely delivery and pickup, accurately sized containers, along with extended rental times and repeat discounts make us the remodelers favorite. For questions or additional information, please call: 303-984-7200.
Call Now To Schedule a
Dumpster Delivery
Locally Owned Denver Dumpster Rental Company Serving Homeowners, Remodelers, Contractors, & Roofers...
(303) 984-7200

Sam's Hauling
1408 W Quincy Ave
Englewood, CO 80110
Monday - Friday, 7:30 am - 4 pm
Saturday, 8:00 am - 12:00 pm
Sunday - Closed