Denver makes a significant impact on preventing needless waste. In fact, as stated in their 2019 annual report, Denver Recycles can divert up to 54,169 tons of materials from landfills in a single year. Though we continue to make our way toward a more sustainable future, there are still some very easy steps we as citizens of Denver can take with our recycling habits to help tackle an industry-wide problem that's been wreaking havoc on recycling facilities and the vital process of managing waste.

Tackling the Trash Problem In Denver Recycling Facilities
Everything from contaminated recyclables and broken glass, to flammable containers, jammed-up or broken down equipment, and unsanitary working conditions... Denver's recycling facilities are facing some great challenges as they deal with inappropriately discarded waste. Let's pitch in with some convenient guidelines to keep non-recyclable trash from ending up in recycling bins.
What Can Be Recycled In Denver Colorado?
You might actually be surprised by what DOES NOT belong in your Denver recycling cart. Yeah, you're probably aware that you can't ditch that old can of gasoline or motor oil along with your newspaper and seltzer cans, but did you know that you CAN NOT recycle such things as shredded paper, foil lids from yogurt containers, or tissue paper?
What CAN Be Recycled in Denver:
Steel and aluminum cans
Glass jars and glass bottles
Plastic bottles
Paper cups
Aerosol Cans
Must be empty and clean from food or debris
Flattened cardboard
Food Boxes Flattened
Paper towel tubes
Pizza boxes
Must be flattened and free of food, grease, or debris
Food and beverage cartons
Newspaper
Magazines
Mixed paper
Must be empty
What CAN NOT Be Recycled in Denver:
Plastic bags or garbage bags
Scrap metal - bulky metals, cookware, or hangers
Tanglers such as cords, hoses, or chains
Regular garbage
Yard waste or compost
Food, so clean any recyclables of food waste
Candy or food wrappers
Cassettes, DVD's, CD's or plastic cases
Containers larger than 3 gallons
Plastic tubes such as toothpaste or hair gel tubes
Potato chip bags
Juice pouches
K-cups or individual coffee creamers
Paper towels, tissue paper, or napkins
Styrofoam or packing peanuts
Flower Pots
Shrink Wrap
Bubble envelopes
Electronics or light bulbs
Glassware or vases
Window glass
Ceramics
Plastic buckets
Hazardous materials such as batteries, motor oil, cleaning products, chemicals, - pesticides, and gasoline
Also NOT Accepted are:
plastic containers marked as Compostable or PLA
foil coated cardboard
waxed cardboard
shredded paper
foil bags
or foil yogurt lids
Drop Off Locations for Recycling and Non-Recyclable Materials
Got recyclables or other materials that need to be disposed of properly? Denver has many resources and locations to get rid of just about everything in the appropriate manner. Here is some very useful info categorized by type of material.
Please note that you may need to contact your location in advance of drop-off for accepted materials and accommodations.
Drop-Off Locations for Recycling, Compost, and Electronics
Taking all items normally accepted in their pick-up service, Denver's Cherry Creek Recycling Drop-off provides a convenient and NO-COST way for Denver residents to keep extra recyclables out of the landfill and to compost yard debris, food scraps, and non-recyclable paper.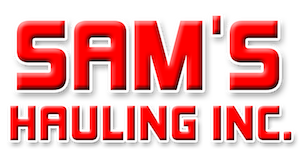 Hazardous Waste Collection:
For details on how to properly dispose of hazardous materials such as fluorescent bulbs, corrosive chemicals, paint, and motor oil, consult the household hazardous waste section of the City of Denver website.
Need a dumpster? Looking to get rid of a lot of junk in the Denver area?
Contact Sam's Hauling today!