Construction Jobs Stay Strong in Denver Metro Area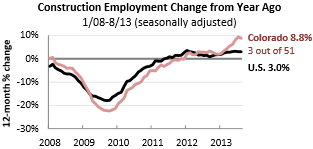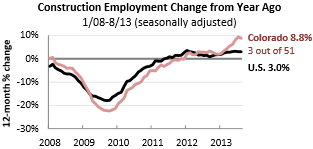 -Updated 3/2020-
Since the original publication of this article in 2014, Denver is still doing better than most U.S. cities in the realm of construction and employment of its skilled workers. In fact, though 80% of contractors in the country report difficulty finding qualified construction workers, construction is becoming more and more popular in Denver with men who are seeking employment.
Original 2104 Article:
Across the country, two-thirds of construction contractors can not find qualified workers. The Denver metro area is the exception, placing in the top 10 out of 339 metro areas in the country for construction jobs added in the past year, says Ken Simonson of Associated General Contractors of America. According to the contractor group, the Denver metro area added 3,600 construction jobs between February 2013 and February 2014.
Denver Construction Summer Projects
Summer in Denver means construction projects are taking place all over. Sam's Hauling is well equipped to supply construction workers and contractors with the necessary equipment to complete jobs in a timely manner. We have 3 distribution centers to efficiently deliver dumpsters to the greater Denver area, including Boulder and Longmont.
Contractor Dumpster Rental Advantages
We understand what it's like for contractors to need high-quality construction equipment at a low cost. This keeps overhead pricing down and enables them to pay their employees living wages. Which is why we offer NUMEROUS DISCOUNTS and OFFERS for construction companies and contractors. Some of these advantages include:
Rolling discounts to repeat customers
Extended set times and grace periods
Invoiced billing after credit approval
As always, Sam's Hauling provides timely pickup and delivery of all dumpsters. For questions or additional information, please call: 303-984-7200.
Written by Sam Stankie
Call Now To Schedule a
Dumpster Delivery
Locally Owned Denver Dumpster Rental Company Serving Homeowners, Remodelers, Contractors, & Roofers...
(303) 984-7200

Sam's Hauling
1408 W Quincy Ave
Englewood, CO 80110
Monday - Friday, 7:30 am - 4 pm
Saturday, 8:00 am - 12:00 pm
Sunday - Closed